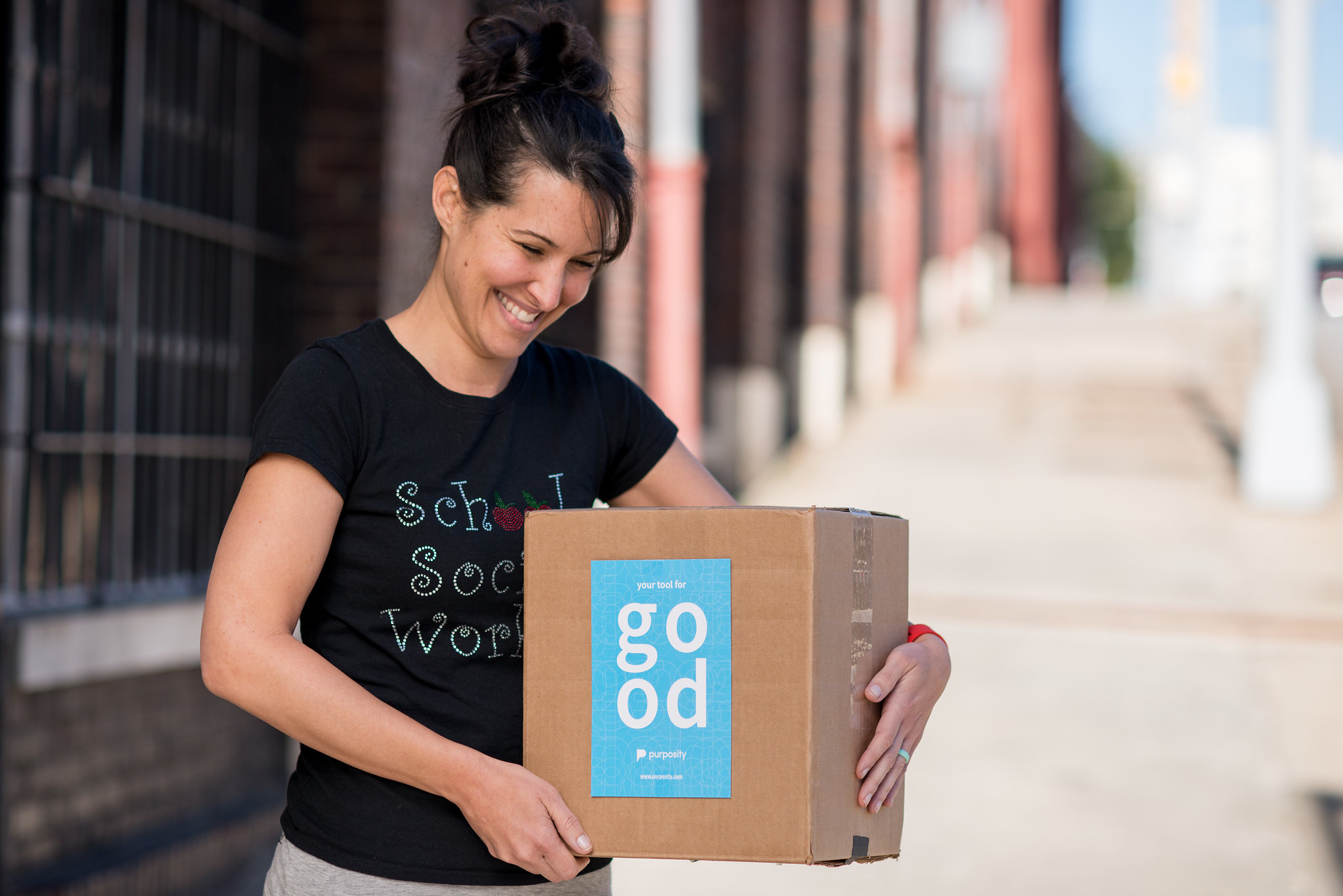 Get exactly what you need.
How it works.
Let us know the needs you've got for your students or clients. We spread the word to individuals near you who are willing to help. They click a link, see the need, and send you exactly what you're requesting, delivered right to your office.
.
.
.
Step 1: Build Followers
When you sign up, we'll give you the playbook. It's simple and powerful.
Step 2: Post Needs
Anytime you come across a need, simply enter it from your phone or laptop.
Step 3: Deliver Items
Items are shipped to you. Now for the fun part, you know what to do.
From case workers to Superintendents, here's what they have to say.
A little can make an enormous difference. I am especially pleased with how this tool helps homeless children and families by meeting their basic needs. With the support of this program, the school social workers are able to do more to aid in the families' growth to becoming self-sufficient and transitioning into a stable home environment.
- Dr. Carstarphen, Superintendent, Atlanta Public Schools
Purposity gives me more time to check back with my students, follow-up with them and fully implement a plan.
- Amy Gamez, School Social Worker, Forsyth County
Purposity has provided our community the opportunity to effectively and efficiently provide assistance to our families in need. I recommend other communities consider Purposity as one vehicle to help level the playing field for all children.
- Dr. Jeff Bearden, Superintendent, Forsyth County Schools
See how others are using Purposity
Work for a school district? We help support staff such as school social workers, school counselors, homeless liaisons, and foster care points-of-contact in getting exactly what their students need. If you're doing direct support to students, you probably can post needs with us. See the FAQs for more info.
Nonprofits across the country use Purposity to fulfill the needs of their clients. It might a veteran who's being rehoused that could use some household essentials or a mom in need of diapers. If you're doing case management and could use a way to get what your clients need, Purposity is probably exactly what you're looking for!
We even work with government agencies. Maybe you're a case manager at human services or working closely with individuals with disabilities through your local government. We can help you get what you need to help bridge a path to success for your clients.
Frequently Asked Questions
How's Purposity work?
It's pretty simple. As an eligible staff member at a school district, nonprofit, or government agency you can sign up to post needs with us. We'll help you build followers and get these needs in front of Followers near you. They read about your need and can meet it right through the Purposity app. Then, the item shows up at your office for you to distribute.
Who's eligible to post needs?
You must be a full-time staff member at an eligible organization (see below). For schools, that generally means school social workers, homeless/foster care liaisons, counselors, or administrators. Sorry, teacher friends, please get with one of those individuals about posting needs. For our nonprofit and government agency friends, we generally partner with case managers or other equivalent positions.
What type of organizations are eligible?
For our partner organizations, we look for a few things. First, you're a 501(c)3 nonprofit organization, government agency, or school. Second, you have the online and social media presence, plus the full-time staff capacity, to launch Purposity and keep your Followers engaged. Lastly, if your nonprofit is faith-based, the program must be non-proselytizing to qualify. If you meet these criteria, please keep reading!
What types of needs can I post?
Great question. We look for one-to-one essential item requests for those you're serving. No programmatic or staff use requests (and definitely no personal requests), please. If it's on Amazon, something that's essential, under $250 (the average need is $30) and can be shipped for a reasonable price, it's probably a good Purposity candidate.
Can you get more specific on the types of needs you post?
Sure. For schools, we generally post anything from clothing items (think shoes, coats, socks, etc.) to school supplies (backpacks, calculators, etc.) and stuff students may need to participate in extracurricular activities. Many districts also use us to lend a hand to their families with small household requests (think diapers, formula, etc.). For our nonprofit partners, it's a pretty wide range from items like dishes and kitchen essentials, to nonperishable food and clothing for their clients. Everything is new and shipped directly to you from Amazon. Purposity does not accept donations of used items.
What happens after I post a need?
Pure magic. No, but really, we have a team of writers who take the information you give us and craft it into the story that your supporters read. If they're moved, they purchase the item right from their phone, and our community managers ship it to you at your office. You then get it into the hands of the person that needed it.
What sort of details do I need to share?
One thing that's super important - we never ask for any data or personally identifying information (no names of students/clients, addresses, etc.). Instead, we ask that you complete a simple online form and provide a few details about the person's story to help Supporters understand why that item is important.
What's the process to get started?
It's pretty simple. You'll start by clicking on one of the many "Get Started" buttons found on this site. That will take you to a form to submit your info and agree to our Terms of Use. Our team will evaluate your information and let you know if you're a good candidate. Then, you'll get the training info and launch kit and start working towards your tailored Follower goal.
How do I get Followers?
We've made it as simple as possible. Once you complete the initial form, agreed to the Terms of Use, and been accepted, we'll get you over our launch kit and training info. Our launch kit has everything you need (plus some fun ideas) to grow your organization's Follower count. We'll even give you a specific Follower goal, so you know how many Followers you'll need to unlock your ability to post needs. Plus, we'll be here to help support you in meeting your goal.
I think I'm a good fit for Purposity. What do I do?
Just click one of the "Get Started" buttons or here to get moving! It'll take you to our form to collect more info about you, your organization, and walk you through our Terms of Use. Then, we'll be in touch within 5 business days.